Michael Boyle, Owner of Gents Cuts and Grooming
Premium barbershop owner Michael Boyle shares how SmartBot has reduced reception hours without sacrificing customer service.
For Michael Boyle, owner of GENT Cuts and Grooming – a modern take on old-school barbershops with 6 locations across the Twin Cities area - high-quality customer service has been a top priority since opening the doors to his first premium barbershop in 2011 in St. Paul, Minnesota.
Michael, whose background is in management information systems and accounting, saw a gap in the market for a premium barbershop that had top talent and high-quality customer service, whilst keeping the comfort of a traditional barbershop.
GENT's success is no doubt in part due to its commitment to providing a state-of-the-art training program for its staff, along with its unique approach of having dedicated receptionists in every location to ensure the highest level of customer service.
After 11 successful years, top-level customer service remains at the forefront of Michael's business plan, alongside SmartBot - the key to business continuity planning that has become a must-have in GENT's growth plans.
Each location at GENT is hand-picked to maximize clientele and keep staff fully booked.
COVID meant adopting technology or being left behind
Like many in the industry, Michael and his team were hit hard by the challenges the COVID pandemic brought. Hair and beauty businesses saw an average loss in turnover of 45% in 2020, and as much as 57% in some regions, with forced closures and inflationary pressures making it hard to stay afloat, never mind grow.
Rising wages and staff shortages were proving to be particularly challenging for GENT which prides itself on having a dedicated reception area in all its locations.
"Our receptionists are integral to the high-quality guest experience we provide, but we didn't want to be so reliant when somebody called out or we weren't there. We weren't OK with one of our stylists or barbers interrupting service to go and pick up the phone to take care of another customer, yet we couldn't afford to miss those calls."
Another challenge Michael faced was the accelerated adoption of technology seen in the industry due to social distancing and the need to limit face-to-face contact, as he states, "the pandemic advanced the adoption of technology by probably 10 years for everyone as people were getting used to being more contactless."
A 2020 Mckinsey survey found that an increasing number of businesses are using AI as a value-generating tool and are investing more in technology to recover from the pandemic, which undoubtedly has accelerated the adoption of digital solutions everywhere.
Michael knew GENT needed to adapt fast to meet the openness to the technology they were seeing across their customer base and find a solution to ensure his staff could focus fully on the guests in front of them, so the time was right to consider an AI assistant.
The seamless solution
Michael first learned about Simplified.io's 24/7 virtual assistant SmartBot from a recommendation by Zenoti, the #1 cloud software for salons, spas, and med spas. Recommended thanks to the deep and exclusive integration with the Zenoti platform that allows seamless customer data interchange for more personalized, human-like conversations, Michael saw the potential immediately.
"We'd already migrated over to Zenoti, and because of SmartBot's seamless integration with the platform along with the ease of set up, it was our number one choice and an easy decision for us."
Managing missed calls the smart way
Something that stood out about SmartBot for Michael was the IVR-SMS Bot, a powerful way to ensure missed calls were managed when receptionists were busy, or unavailable.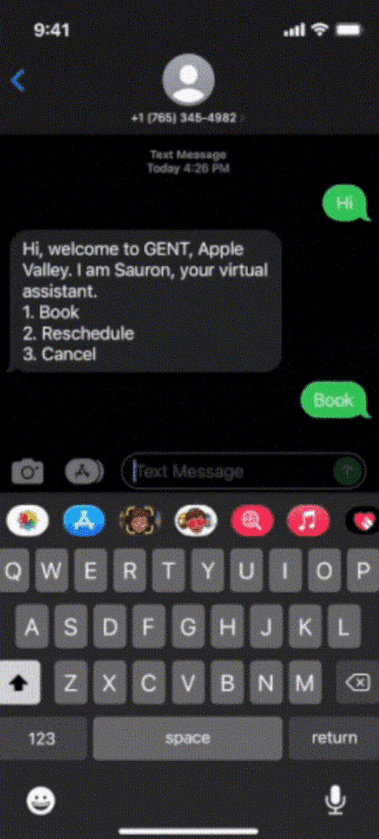 IVR-SMS Bot at GENT
As Michael explains, a very large part of the core functionality of reception is managing phone calls related to booking, re-scheduling, cancellation requests, or commonly asked questions, which can be extremely time-consuming and labor-intensive.
Previously when there was a last-minute no-show at reception, something Michael recalls happening recently on a particularly busy day in one of his locations, the team was left either missing calls or interrupting services to pick them up. Now on such occasions, SMS Bot seamlessly takes over and provides a critical backup system to GENT's reception – a must-have service for business continuity and customer happiness.
"Having SMS Bot trigger over on a missed call and allow us to communicate with a guest via text has been huge for us, especially with the integration of our customer database from Zenoti - it's just tremendous. Both the SMS and Web versions of SmartBot have helped relieve some of the pressure on our in-store reception by freeing up time for them to focus on product sales or answering more complex questions. Not only has it helped catch some of those guests looking for answers to more basic questions, but it's also increased reception's ability to take care of the guests in front of them."
With an estimated 23 billion texts sent every day, and 89% of customers preferring to communicate with businesses via SMS text, it's no surprise that text is now the preferred mode of communication across generations.
"The ROI from SmartBot has been huge..."
In a few short months, GENT has seen huge benefits from SmartBot, including the ability to provide continuity of service and reduce non-peak reception hours for the front-desk staff where they really weren't necessary.
One of the biggest value-adds for GENT has been the reliability SmartBot brings to the table, especially during unexpected situations which are beyond human control.
"Before SmartBot, if a receptionist called out unexpectedly, we'd have to put one of our service providers at the front desk and cancel their appointments for the day. The cost of doing that, not only in hard dollars but also in client dissatisfaction is serious."
Michael believes that as a business that truly cares about its customers, GENT's job is to ensure that when those unexpected things do happen, there's a plan in place that guarantees operations are not disrupted.
"We are in a place now for the first time where that's true as we have SmartBot fielding phone calls for us 24/7, without allowing any disruption in our operations".
Michael highlights how SmartBot wears multiple hats to elevate GENT
Post the deployment of SmartBot, GENT has been able to optimize the reception hours of staff by 15% to allow them to focus on more complex tasks that need the human touch, without sacrificing the quality of customer service its guests have come to expect. Michael shares that SmartBot delivers beyond his expectations in terms of the overall return on investment with not only the level of back-up it provides 24/7, but its ability to easily answer frequently asked questions, manage appointment requests, and convert missed calls into possible bookings. "Seeing the benefits of SmartBot to our clients and our staff, I would not go back to where we were before. With the kind of integration and enhancements it offers, I would definitely say SmartBot has proven to be a must-have for our business."
Enabling human-like conversations with 'Sauron' For Michael, personalization was important for GENT's Bot 'Sauron' (named by Lord of the Rings fan, Michael) and he continues to be impressed by not only the brand personalization options that are available but also SmartBot's ability to evolve.
"We love that we're able to analyze any unanswered questions, and the Bot learns from our inputs to make its interactions even more human-like. We spent some time upfront doing that, understanding our customer base and some of these questions, and it's been very powerful across the board."
GENT spent time personalizing their Bot, Sauron, to help with human-like interactions, and continue to help their Bot evolve.
Looking ahead...
When looking ahead at the future of AI in the industry, Michael predicts that AI assistants will continue to enhance, not replace, humans in customer service, with the power lying in the combination of the two to learn from each other to enable better interactions with guests.
When looking to the future of his own business, Michael sees GENT's virtual assistant Sauron as a must-have part of his post-pandemic success, being there 24/7 to enhance the fantastic customer service GENT is known for.
"SmartBot has exceeded our expectations. We now see SmartBot as an integral part of us growing while maintaining the level of customer service that our client base expects of us" – Michael Boyle, Founder of GENT Cuts and Grooming."